Wireless Engineering...
Backhaul Wireless Links
In areas where other wireless products lack the data throughput and range; Motorola Canopy backhaul units can provide data throughputs ranging from 10, 20, 30, 60 and up to 300Mbps backhaul links.
Backhaul links are the perfect solution to connect two wired networks that are far apart and require a constant high data throughput.
PTP / PMP Wireless Links
Our company can help you design, deploy and maintain point-to-point and point to multi-point wireless networks.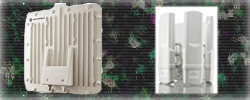 We also offer remote monitoring for your wireless network in order to gather performance throughput, RF analysis and general statistics in order to proactively react to any possible issue that might arise.
Wireless Mesh Networks
Our wireless engineering experience can also help you design, configure and deploy wireless mesh networks using industry standard technology. 
Wireless mesh networks are in high demand and the capabilities are immense.  Ranging from wireless surveillance cameras networks, in-car roaming connectivity to police and emergency vehicles to the deployment of a wide area mesh network; CNS can deliver the results your wireless mesh network requires.